The Plight of the Street Children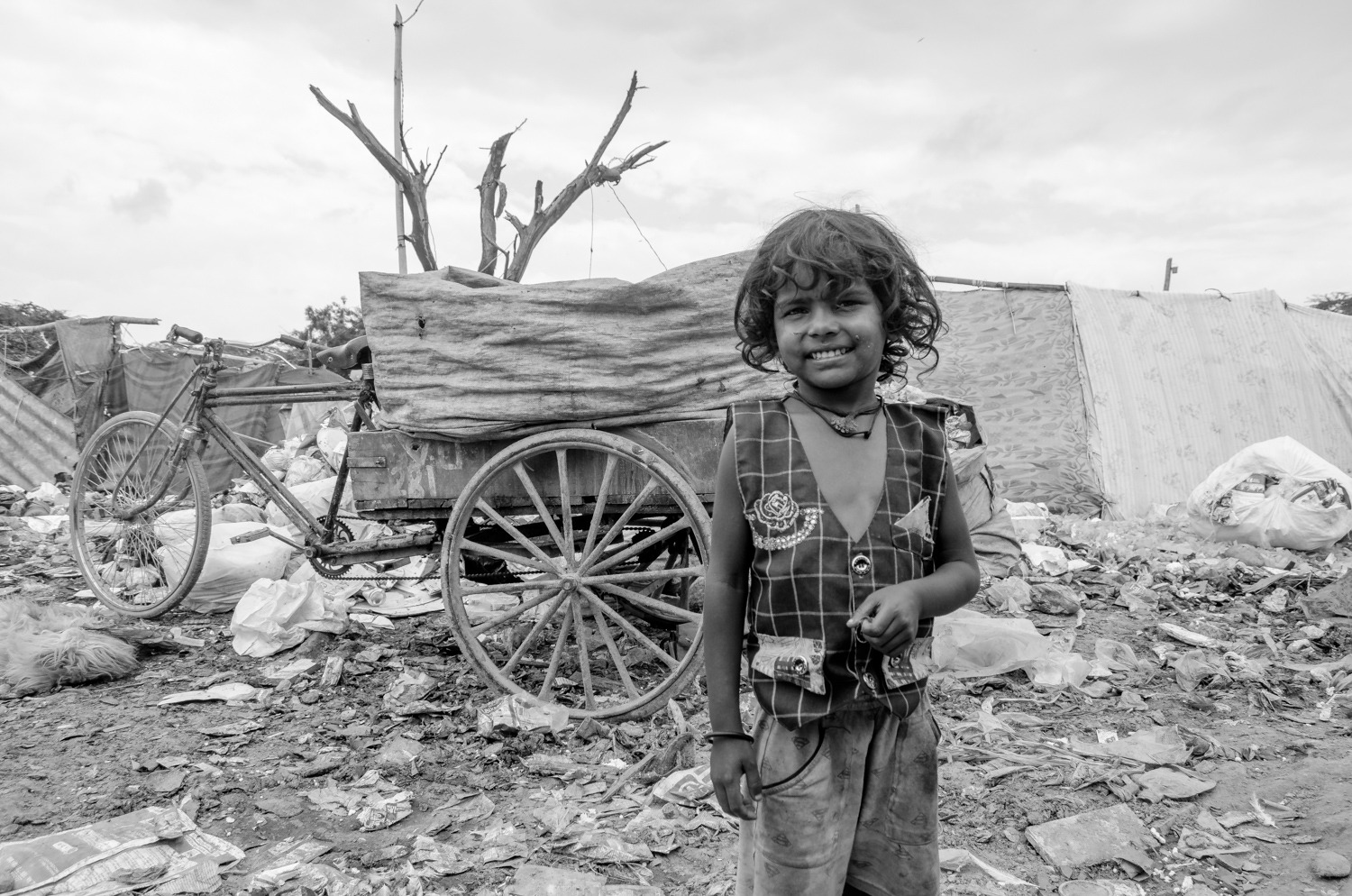 Ever since I picked up a camera and started doing street photography in the nooks and crannies of Old Delhi and CP, as well as other parts of Delhi, the thing that caught my eye the most is the way the young kids work. I looked carefully at them, and I realised they have no voice, no protection as their childhood is being stolen from them.
It was through the observation with my camera that I saw the kids' various emotions, and I decided to showcase the turmoil that they face daily. This brought me to believe that I should tell their story through photographs.
So, I decided to follow the kids and see where do their stories begin, and I realised there is more than meets the eye. Seeing the kids' living conditions: some live on the streets with family; some are abandoned, kidnapped by the begging mafia for work, and some are sold off.
It was tough not to get emotional, but then it made me even more determined to showcase their plight with my snaps.
I spoke to a few people from various NGOs in the slums to get an insight into their world to be able to understand the issues they face and sought their permission to follow a few of them around and capture their daily work routine in the gullies of Old Delhi.
This was followed by my venturing into the dumping grounds in and around Delhi. My visits to these forsaken landfills helped me observe the environment which the kids are in, while they work in the collection and sorting of waste material – covered in filth, verbally and physically abused and sometimes even starved.
My aim is to capture the reality of the issues and let it reach the maximum audience at large, as once we are in our comfortable homes, we have no idea of what these little ones constantly face in the streets.
To highlight the issues of street kids isn't the mere outcome I wish to achieve with this project, for change can only be brought about if I can take it one critical step further and integrate it into people's lives and make it a matter of social justice.
Through my journey as a street photographer, this one aspect of our society touched me deeply, and I feel resolute to bring awareness to this explosive yet hitherto unaddressed issue.
My projects revolve around retelling the plight of street children's conditions. In this project, I have been collaborating with some NGOS' who have worked on the above issues. My project is also planned as of 39-69 digital print on paper for exhibition and planned as of 39-69 photo books as documentary.
What this work attempts to do is to look at these globally relevant issues through a different lens. I have tried to locate my work within the discourse of activism while moving beyond the traditional tropes of documentary.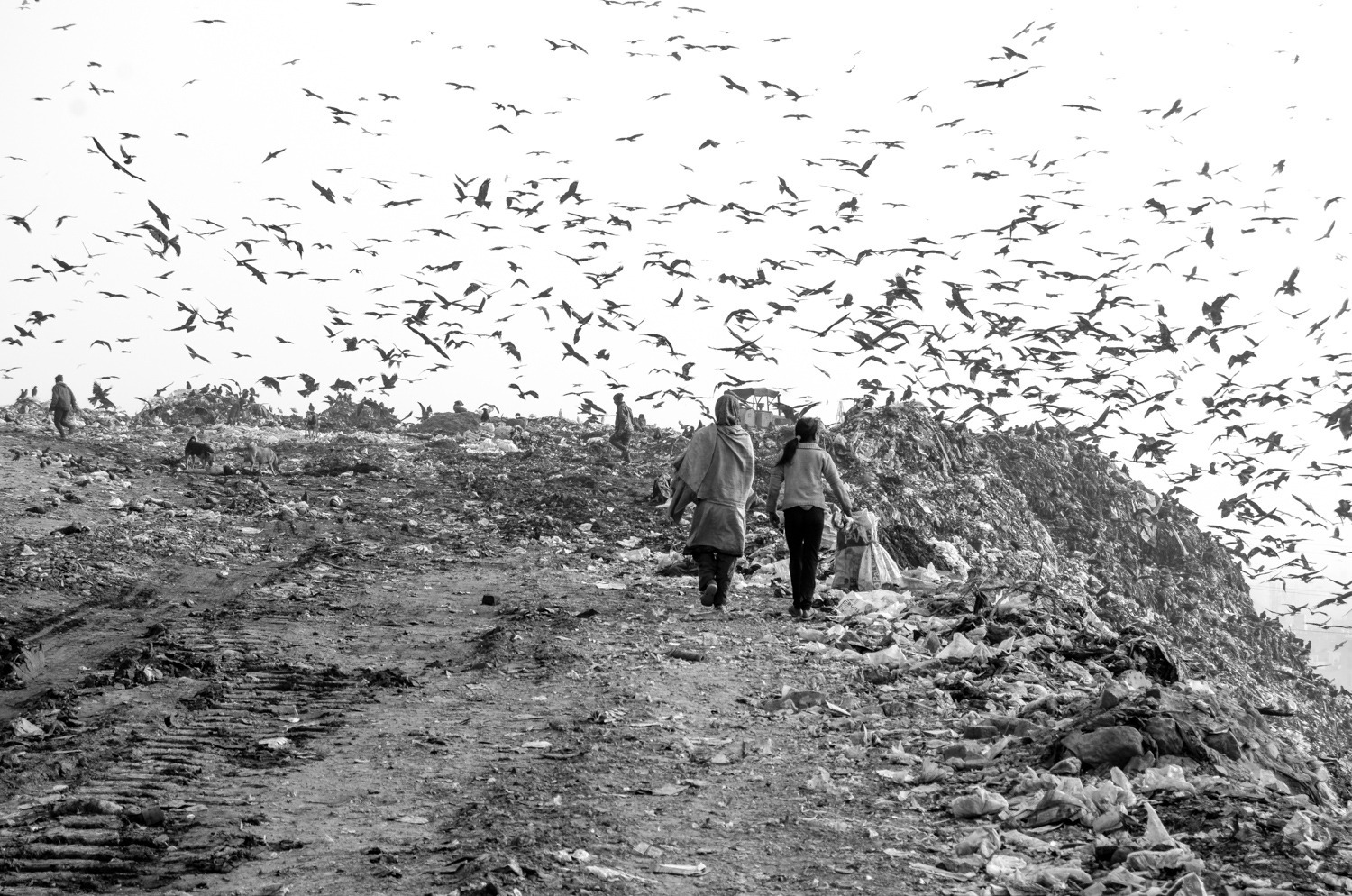 A young girl, accompanied by her mother, is shown ascending a garbage hill while they collect recyclable materials. The backdrop is made even more captivating by the presence of majestic eagles soaring gracefully in the vicinity.
As they navigate the terrain, the eagles above serve as a powerful symbol of nature's resilience and the importance of coexisting harmoniously with the environment. This image encapsulates both the human endeavour to reduce waste and the inherent beauty of the natural world, highlighting the interconnectedness of these two elements.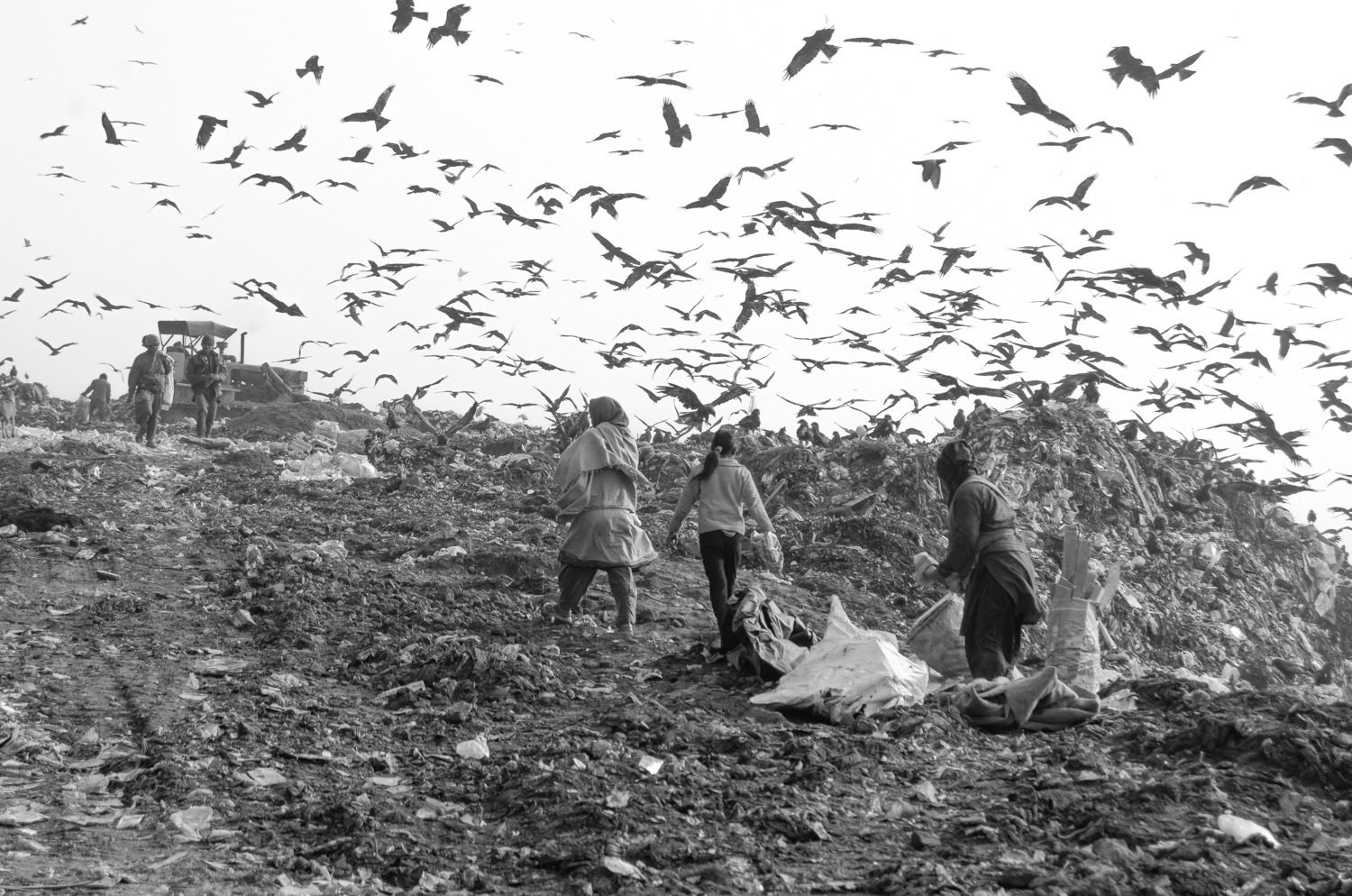 A woman and a young girl can be seen diligently collecting recyclable materials and waste on a garbage hill. Amidst their efforts, the presence of the soaring eagles adds a touch of natural beauty and symbolism, emphasizing the importance of preserving our environment for both human and wildlife well-being.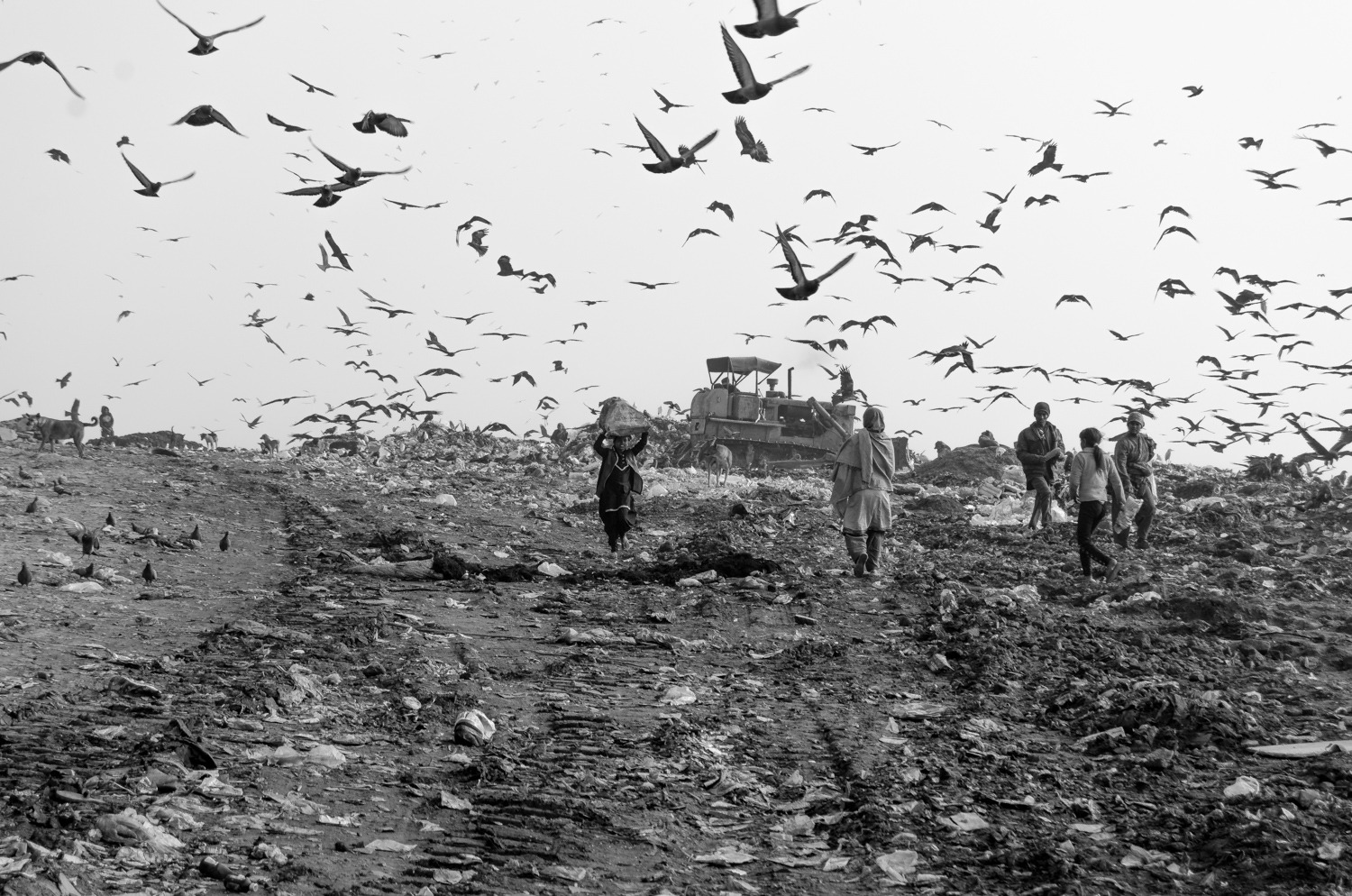 A group of people, including women, men, girls, and boys, have gathered on a garbage hill to collect recyclable materials and waste.
Majestic eagles soar high above. Meanwhile, faithful dogs accompany their owners on this mission, highlighting the close relationship between humans and animals. Additionally, the crows circling the area add an intriguing contrast, perhaps observing the human and animal activity from above.
This photo beautifully captures the intersection of human community engagement, the coexistence of various species, and the ongoing dialogue between humanity and nature.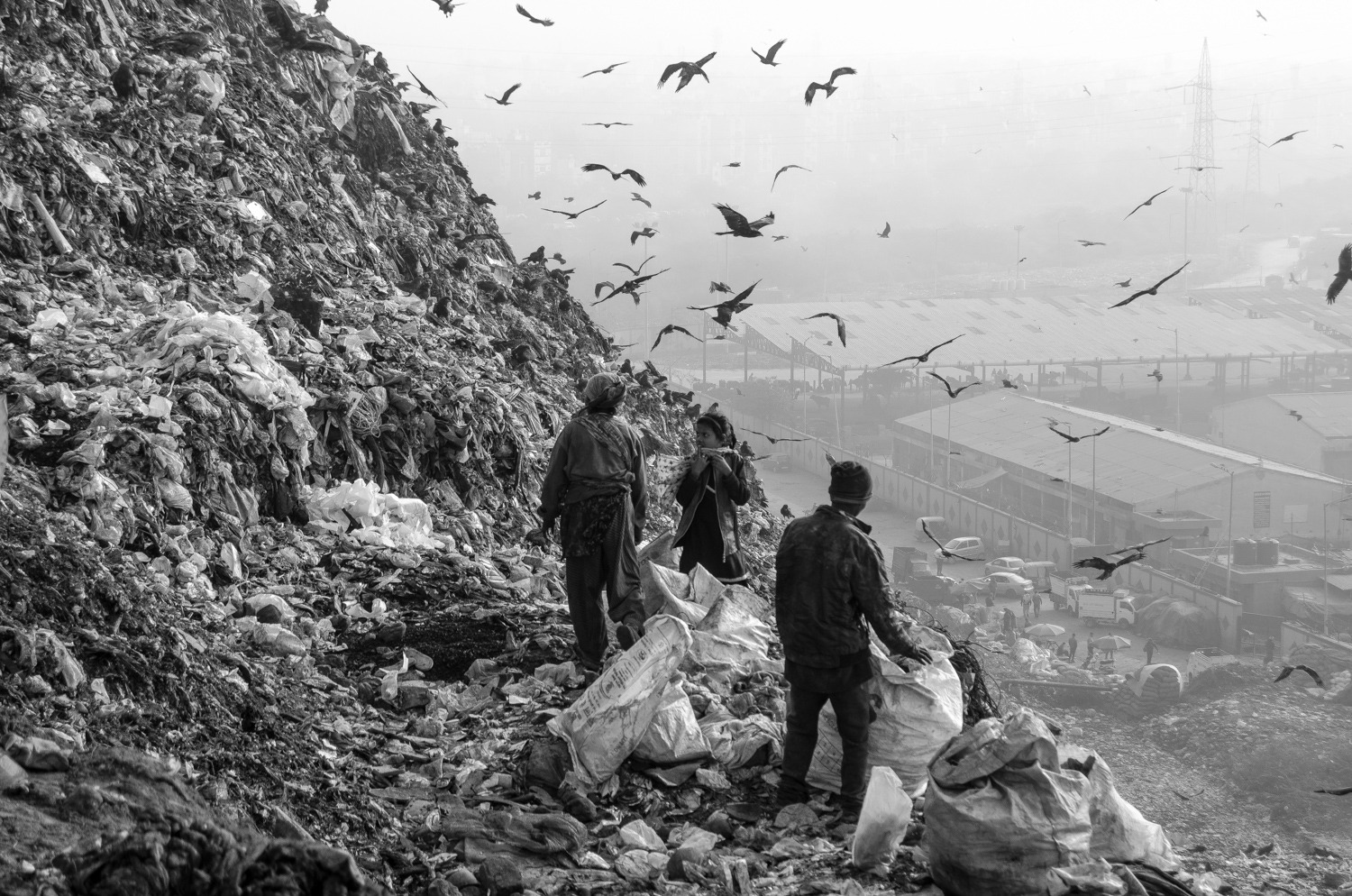 A woman and a young girl can be seen meticulously collecting discarded materials on a garbage-strewn hill. They appear to be deeply engaged in their task. Their determination is evident in their body language as they carefully sift through the refuse.
Beside them, a man joins in the effort, adding to the sense of community and shared responsibility.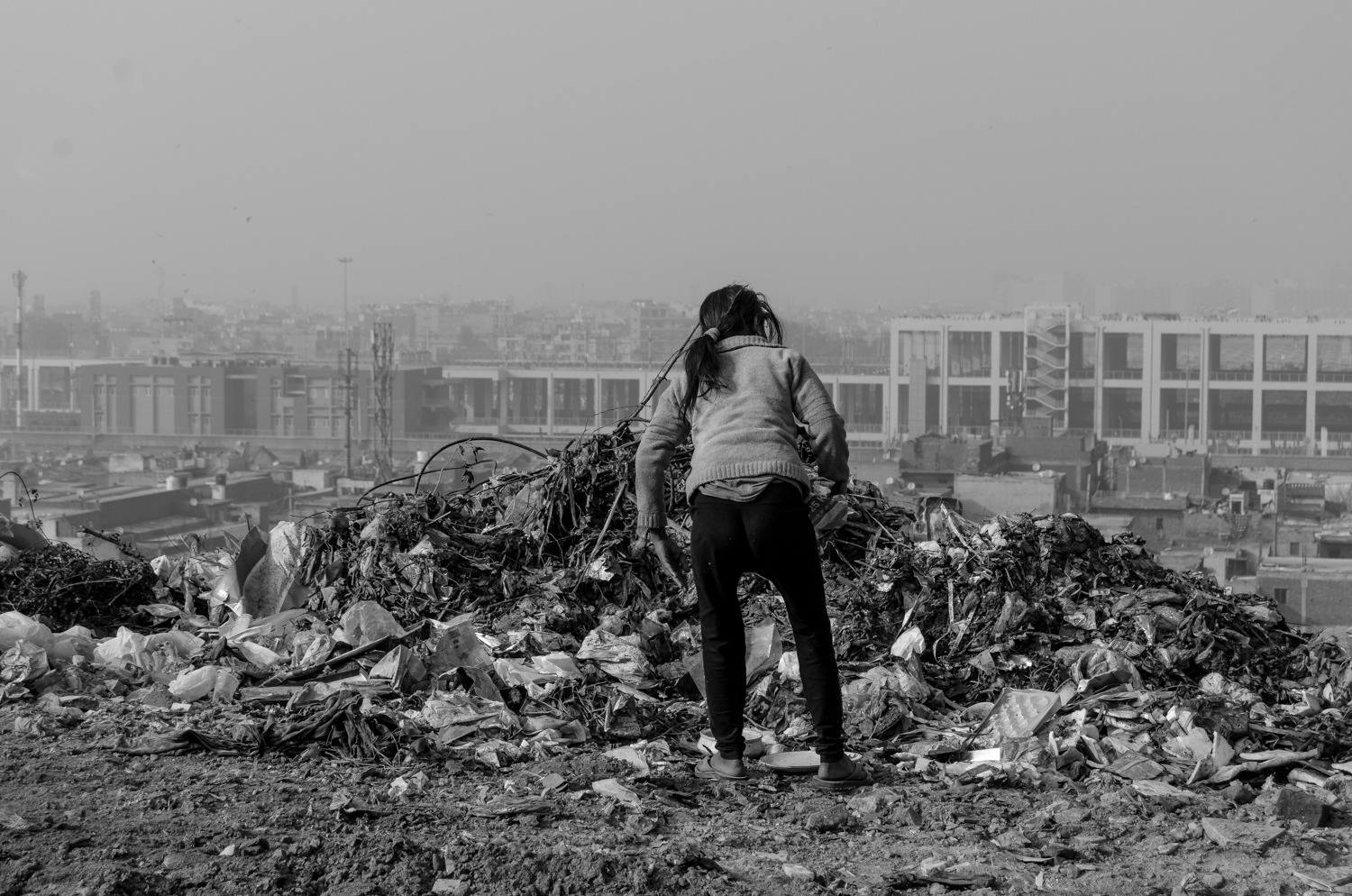 A young girl stands atop a mound of discarded waste on a garbage hill. Her small figure is in stark contrast to the towering backdrop of a bustling metro rail depot.
The girl, undeterred by the challenging environment, is shown carefully collecting trash. She seems absorbed in her task.
In the foreground, the metro rail depot stretches out before her, a complex web of tracks and trains, a testament to the urban landscape's constant motion and activity. This juxtaposition between the girl and the depot illustrates the contrast between the simplicity of her mission and the complexity of the modern, metropolitan world around her.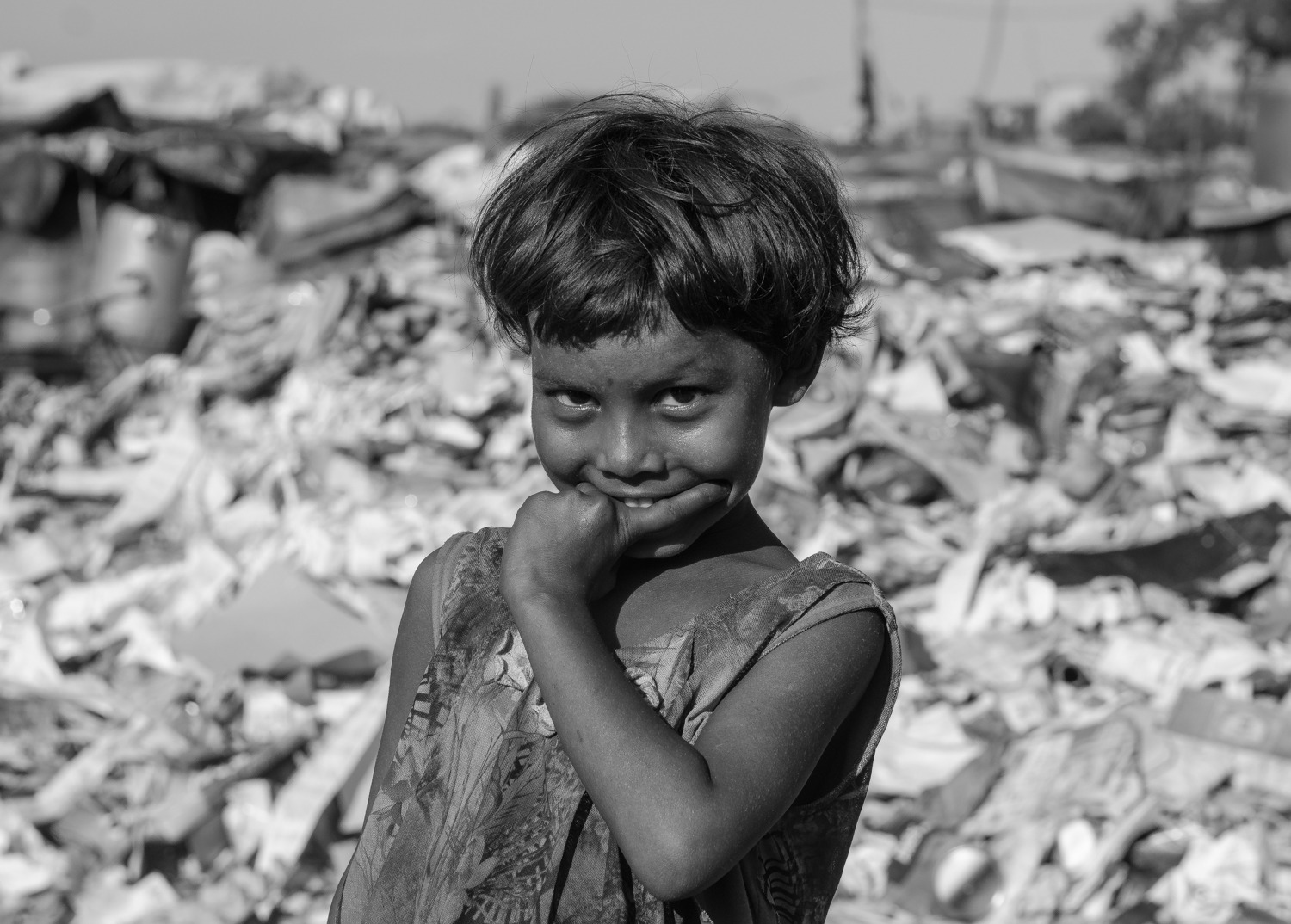 A young girl stands solemnly in front of a mound of discarded waste plastics. Her face reflects a mix of concern and determination.
The girl's presence against the backdrop of waste plastics underscores the gravity of the environmental challenge we face. Her presence serves as a reminder of the urgent need for individuals and society as a whole to take action and find sustainable solutions to plastic waste.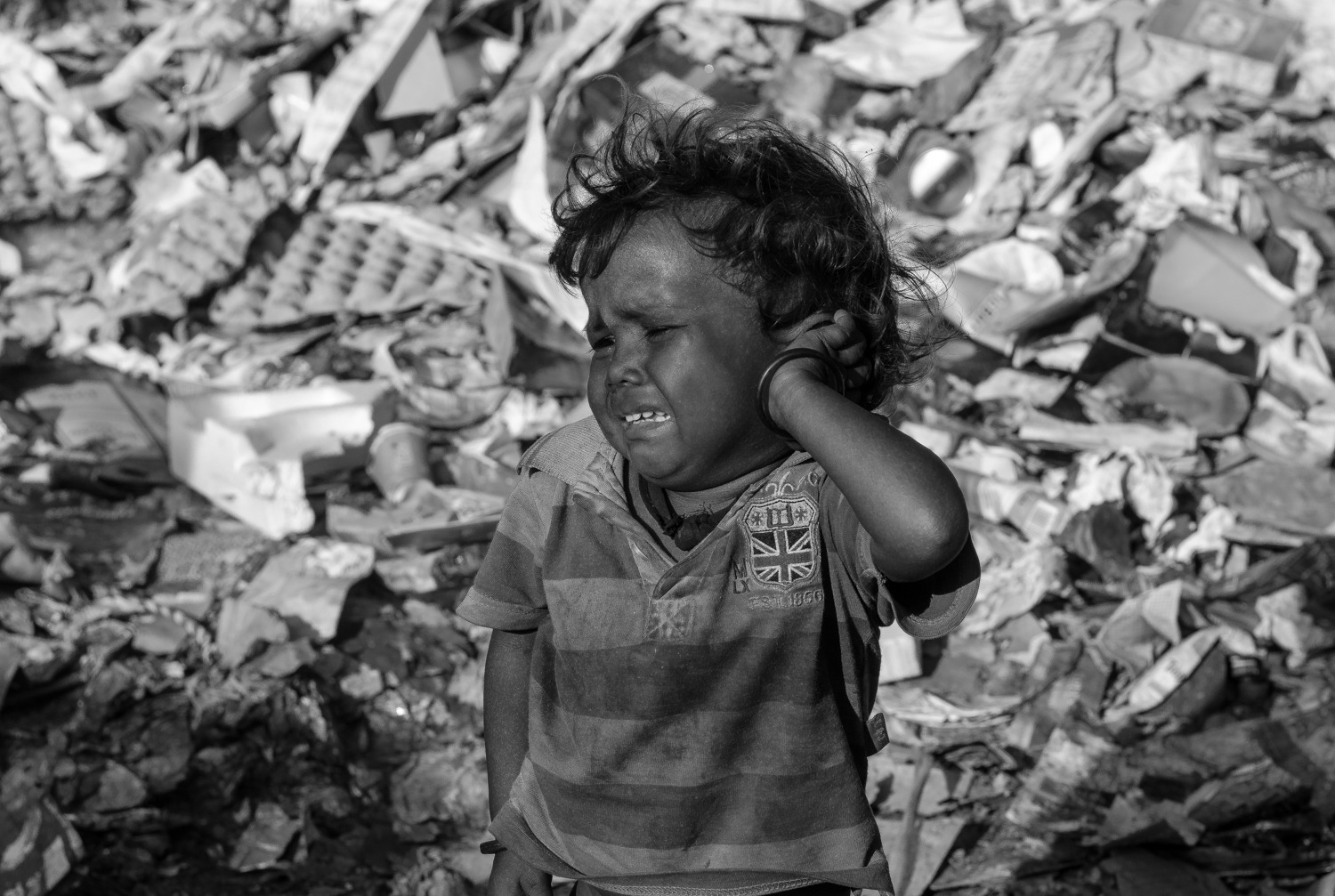 An innocent baby sits amidst a backdrop of discarded waste plastics. Tears stream down the baby's cheeks, mirroring the profound sorrow and helplessness that our future generations might face due to the environmental crisis. The juxtaposition of the vulnerable infant and the harsh reality of plastic pollution is a powerful visual statement. It highlights the immediate and long-term consequences of our actions on the planet, emphasizing the urgency of addressing environmental issues such as plastic waste.
This photograph serves as a stark reminder of the responsibility we bear for the world we are leaving behind for the next generation. It calls for collective action to reduce, recycle, and find sustainable alternatives to plastic to ensure a brighter and less sorrowful future for our children.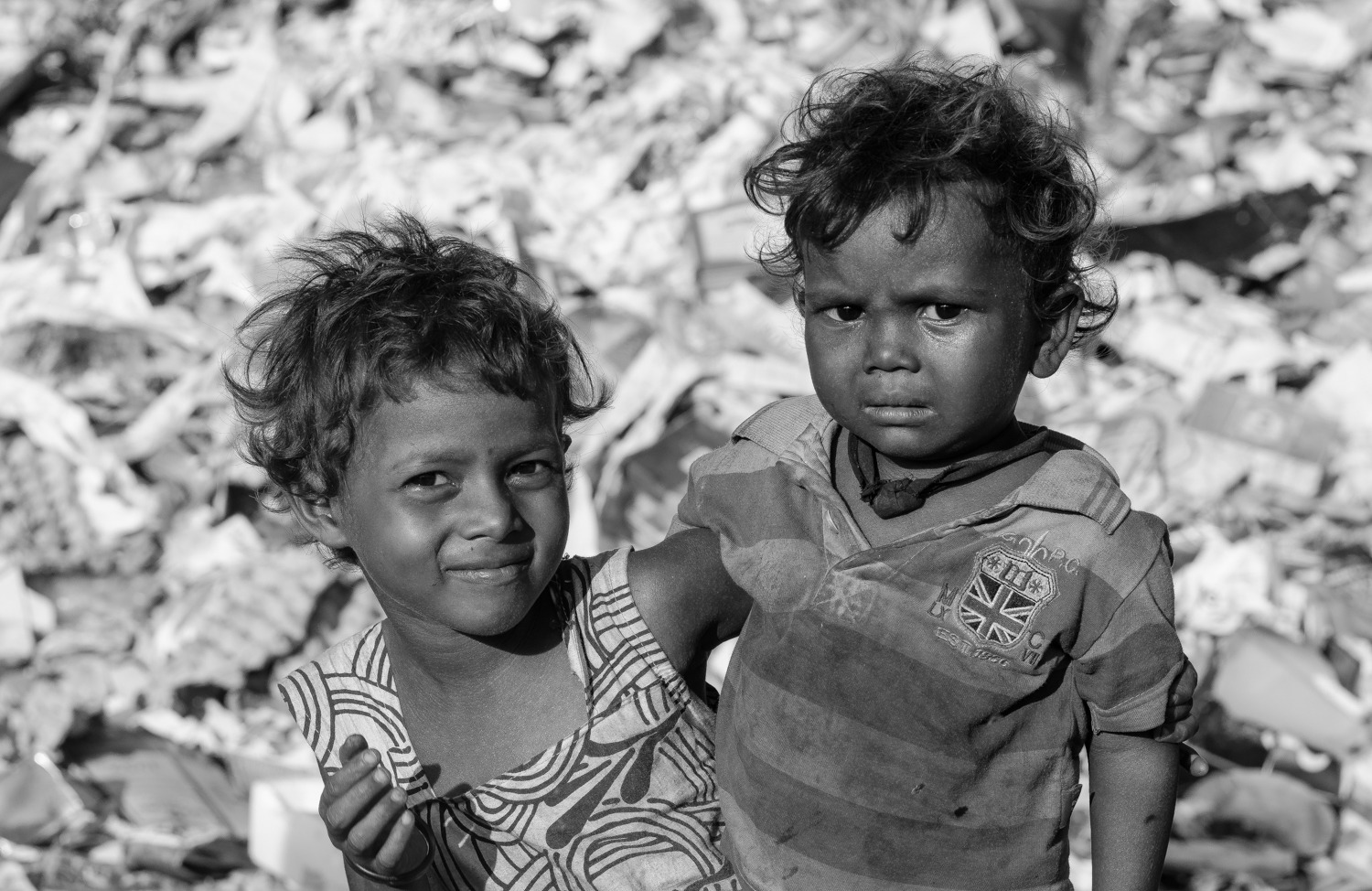 A young girl, holding her baby brother securely in her arms. The girl gazes into the camera with an unwavering resolve. Her tender embrace of her sibling symbolizes the responsibility and hope she carries for the future.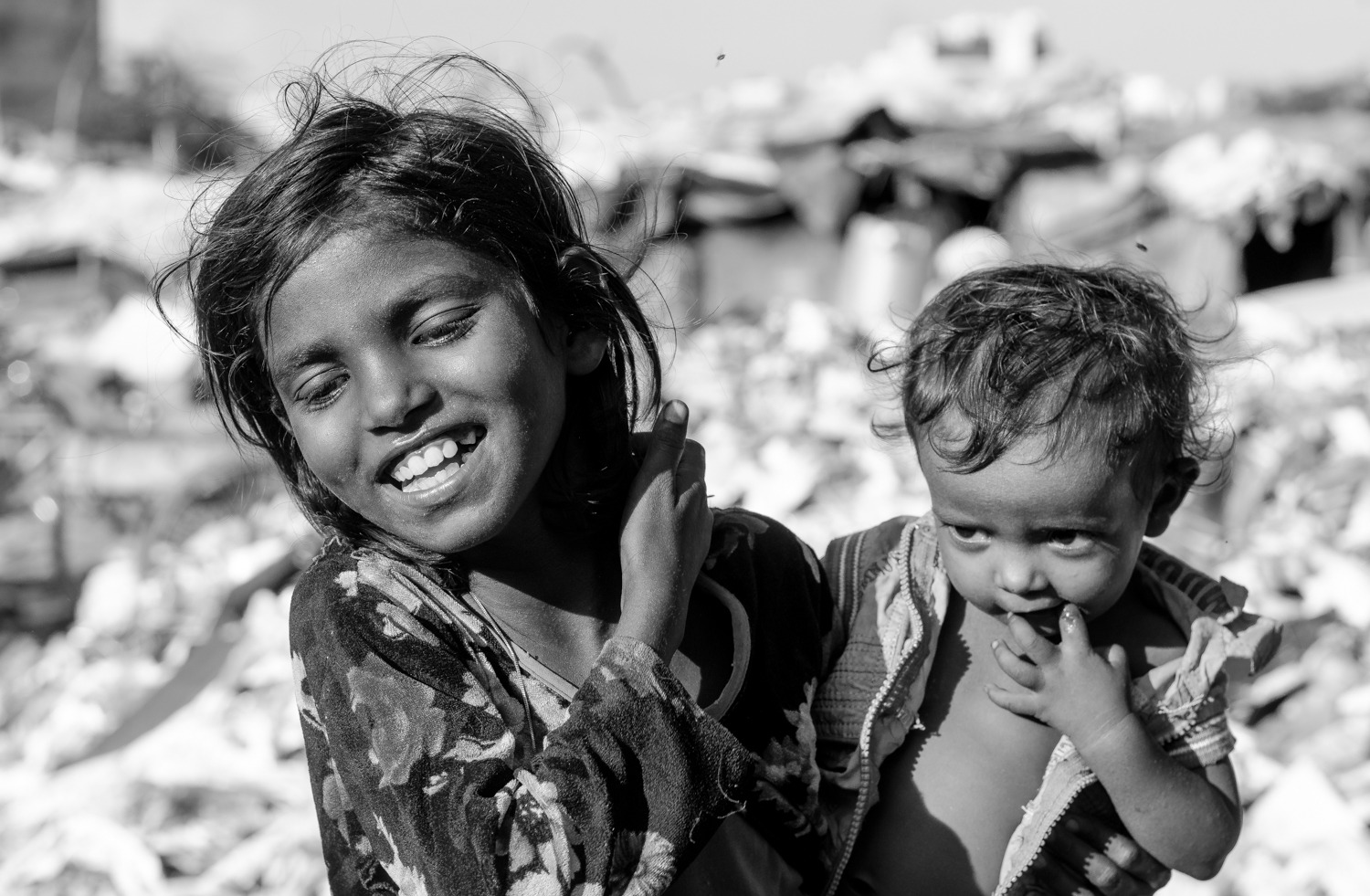 A little girl with a radiant smile graces the foreground. Her eyes are sparkling with joy as she lovingly cradles her baby brother in her arms. The girl's tender expression radiates warmth and care as she holds her sibling close, ensuring his safety and comfort.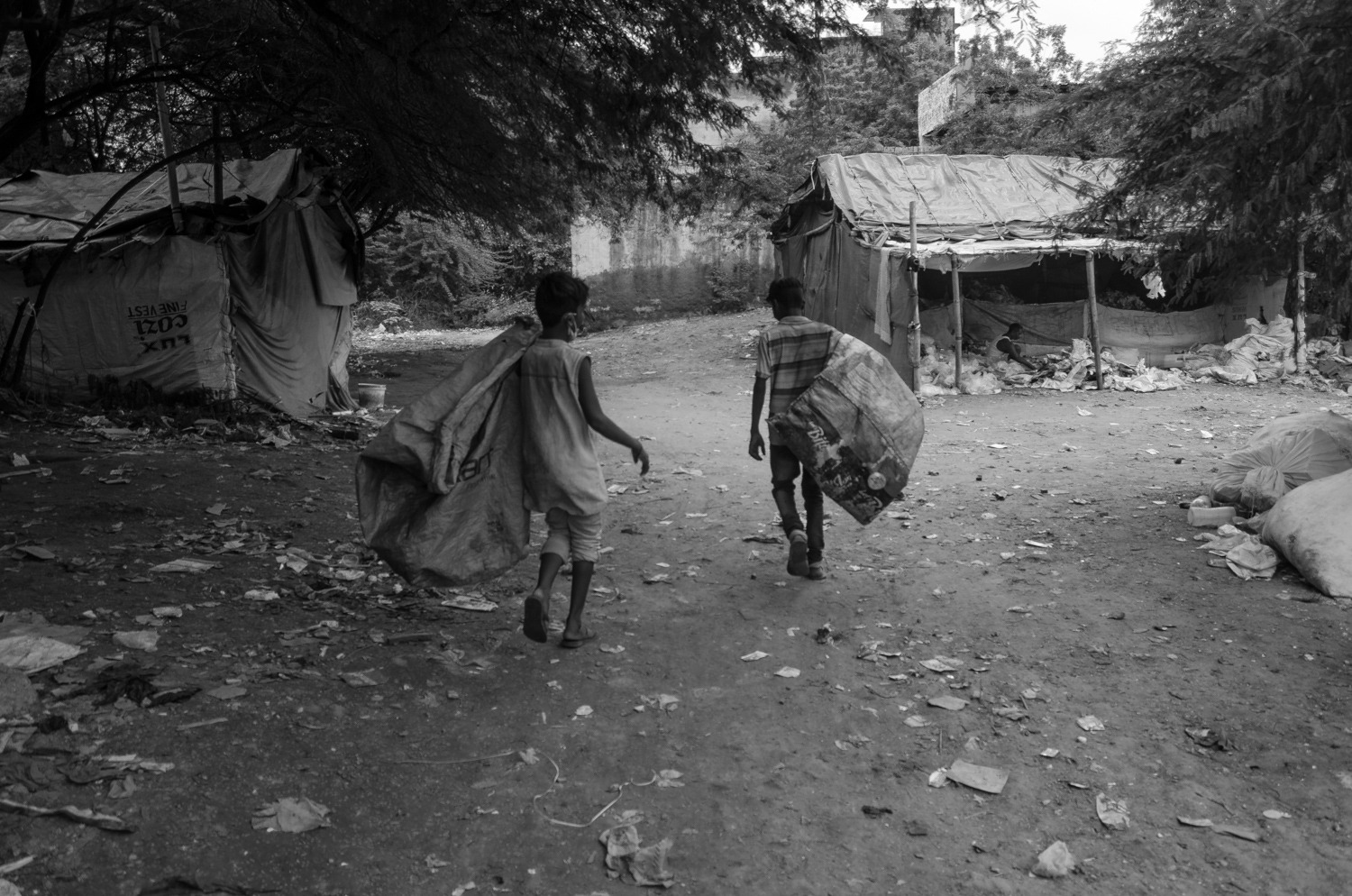 This photograph captures the spirit of two 10-year-old boys as they embark on a mission to collect and transport trash. Each boy is determined and focused, carrying a large bag specially designed for collecting trash.
Their youthful energy is evident in their posture and expressions as they stride purposefully, ready to tackle their environmental task. The image serves as an inspiring reminder of the positive impact young individuals can make on their surroundings through responsible actions.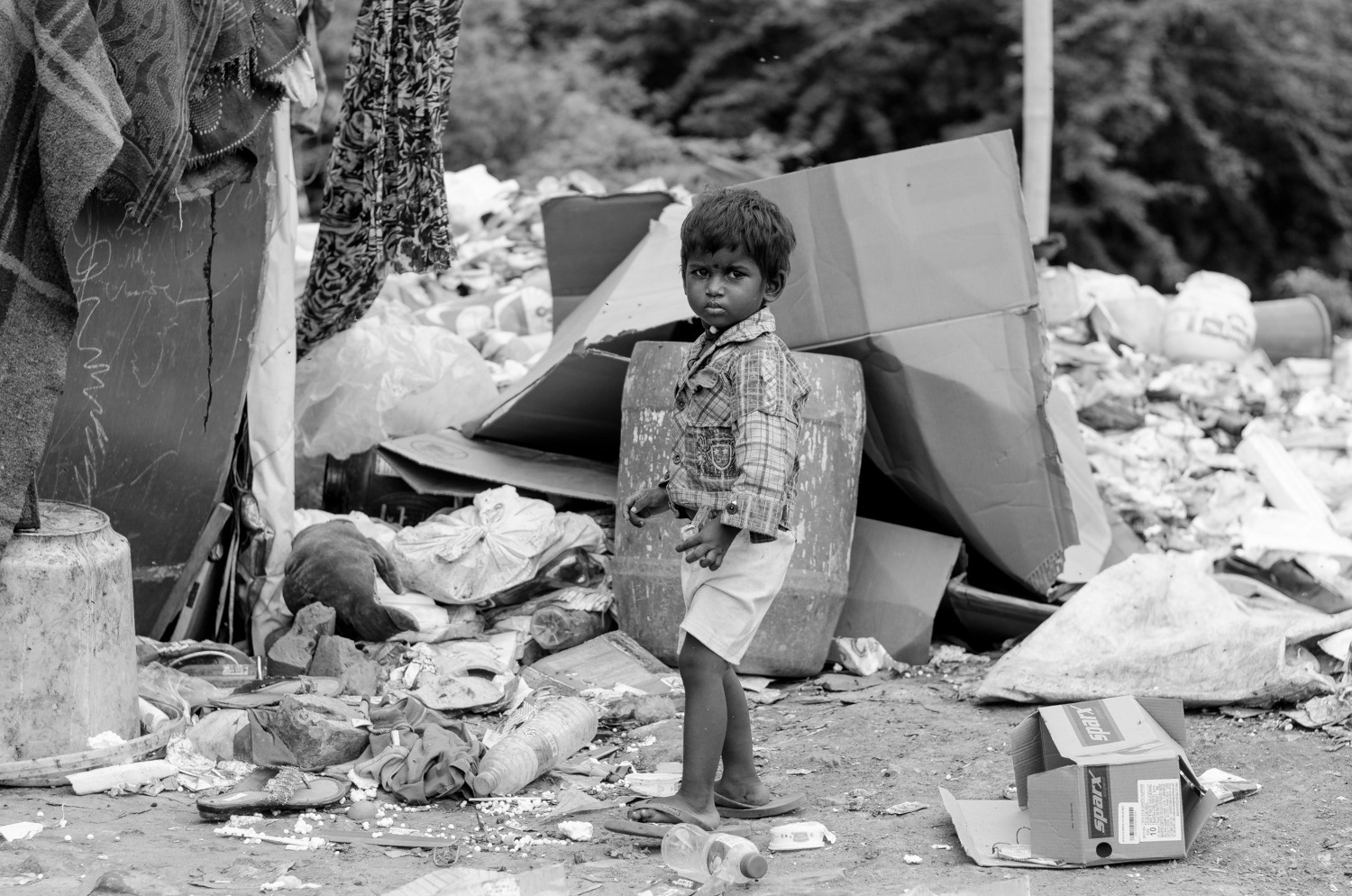 In this photograph, a small boy takes centre stage in the foreground, gazing directly at the camera with curiosity and innocence. His eyes seem filled with wonder and perhaps a touch of inquiry as he looks into the lens.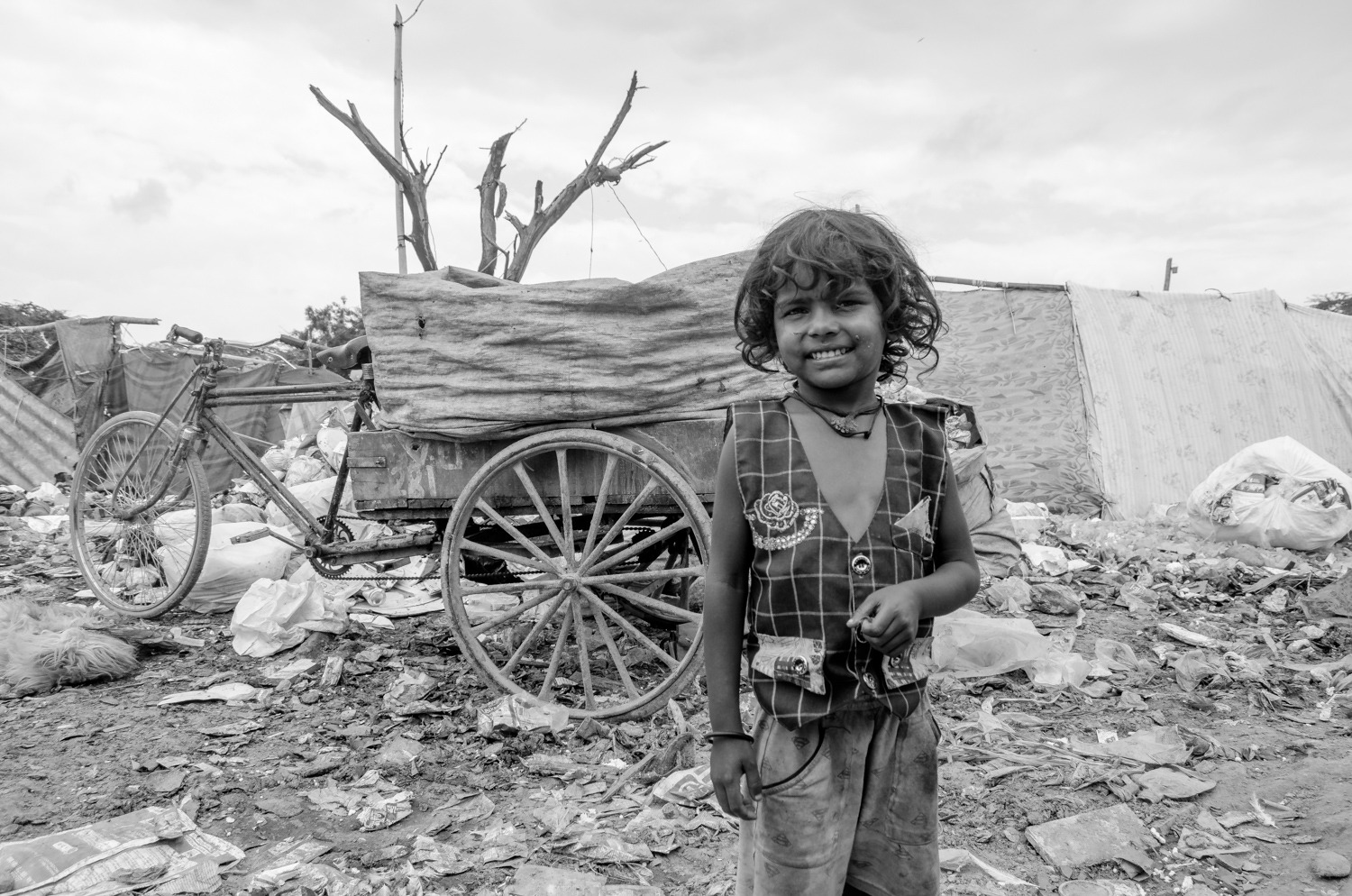 A small boy, capturing our attention with his gaze. His eyes appear filled with curiosity and innocence as he looks directly at the camera, seemingly unaware of his surroundings.
In the background, there is a scene of activity where a three-wheeled rickshaw, often used for transportation in many countries, is being loaded with garbage. People are engaged in the task of disposing of waste in the rickshaw, highlighting the daily challenges faced in managing waste and sanitation in some parts of the world.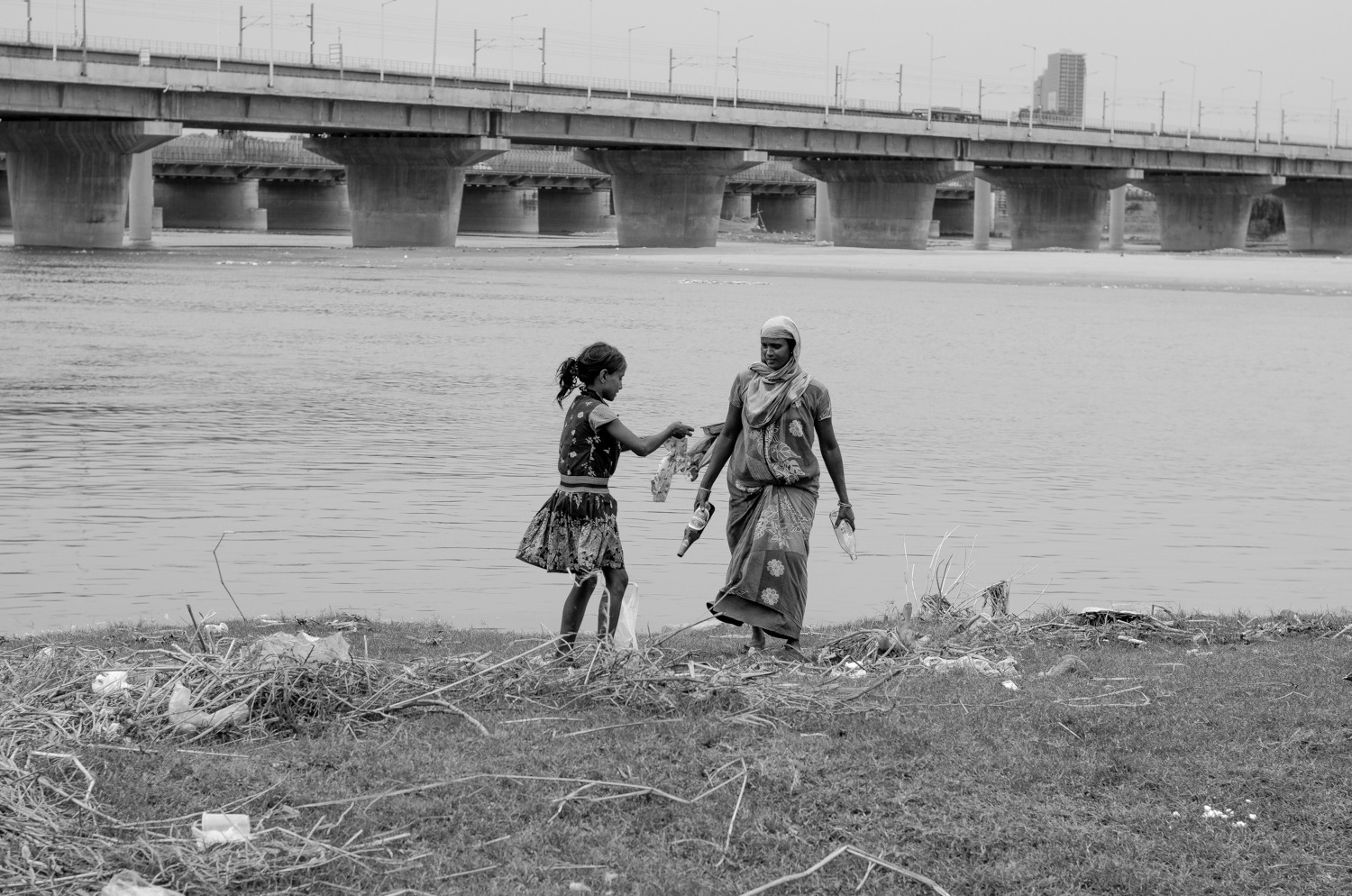 A young girl and her mother are standing on the banks of the Yamuna River. Their shared mission is evident in their actions. The radiant sun casts a warm glow over the scene, illuminating the picturesque riverside.
The mother, dressed in a traditional Indian saree, stands slightly behind her daughter, her hands filled with a collection bag for plastic and glass bottles. She looks on with pride and encouragement as her daughter, a girl of perhaps 8 or 9 years old, crouches down near the river's edge.
The young girl is wearing a bright, colourful dress, a symbol of her youthful spirit. She is fully engrossed in her task, her tiny hands carefully picking up discarded plastic and glass bottles from the riverbank.
The Yamuna River flows gently beside them, its calm waters reflecting the surrounding natural beauty. The distant shoreline is adorned with lush greenery, starkly contrasting the litter they are collecting diligently.
A young girl and her mother are depicted in a quiet moment that speaks volumes about their daily life and the bond they share. The setting appears to be a rural or village environment, where traditions and simplicity prevail.
The mother, wearing traditional attire and with a serene expression on her face, balances a "trans bori" or sack on her shoulder. This sack is a common sight in many rural areas and is typically used to carry various items like grains, vegetables, or other essentials.
The young girl, dressed in a similar traditional outfit, looks up to her mother with admiration and curiosity.
There's a sense of simplicity and contentment in this scene, as the mother and daughter walk home together, sharing the weight of their daily responsibilities. It's a reminder of the deep connection between generations, where traditions and daily routines are passed down with love and care.
This photograph captures the essence of a close-knit family and the values of responsibility and togetherness, illustrating that sometimes, the most meaningful moments are found in the ordinary and everyday acts of life.
The young girl and her mother are seen engaged in a gritty yet important task amidst a backdrop of refuse and discarded items. This scene unfolds in an urban setting, perhaps in an area facing issues related to waste management and cleanliness.
The mother, with determination etched on her face, is hunched over, searching through a garbage pile. In one hand, she holds a tattered bag or container, while the other is reaching out to retrieve a piece of discarded material.
---
Text and Photos by Abhishek Singh